Solutions meeting your requirements –
not the other way round...
Each project is unique and is executed with special care to the individual customer's requirements - no matter if outdoor or indoor display, fixed or mobile installation, 4 or up to more than 200 square meters, economic pixel-pitch of 10 mm or high end products with a pixel-pitch of 2.5 mm.

Multicolor takes care of the customer's concerns from the first contact through to maintenance and servicing of the display. Every step of the production process is monitored by our Austrian project management: from the development of electronic components; purchase; production; software development; hardware assembly and frame construction; throught to testing; delivery; commissioning and hand-over of the display.
high quality materials for your high quality requirements
All Multicolor products are manufactured exclusively with high quality materials. That´s why only original Nichia LEDs are selected for all of our LED products.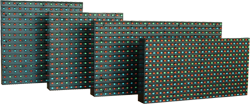 The concept also offers a very low weight, the capability of very quick assembly and easy transport as well as a very clear, user-friendly drive system without external hardware.